US travel ban decision suspended, airlines allowed people to board flights to United States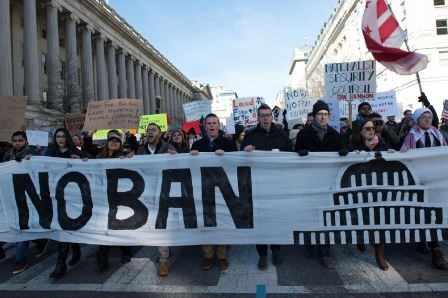 Travel BizNews —
Washington: The US State Department says previously banned travelers will be allowed to enter the United States after a federal judge in Washington State on February 3 temporarily blocked enforcement of President Donald Trump's controversial immigration ban.
Department of Homeland Security personnel will resume inspection of travelers in accordance with standard policy and procedure according to a statement of State Department.
The statement reads – " An order issued by a U.S. District court in the state of Washington on February 3 bars the U.S. government from enforcing certain provisions of Executive Order 13769, "Protecting the Nation from Terrorist Attacks by Foreign Nationals," including those related to visas and travel for nationals of Syria, Iraq, Iran, Libya, Somalia, Sudan, and Yemen. "
"The Department of State had, under the Executive Order, provisionally revoked all valid visas of nationals of those seven countries, with limited exceptions.That provisional revocation is now lifted, and those visas are now valid for travel to the United States, if the holder is otherwise eligible. "
Trump also suspended nearly all refugee admissions for 120 days and barred Syrian refugees indefinitely on January 27, 2017.
According to AP, travelers from the seven predominantly Muslim countries targeted by President Donald Trump enjoyed tearful reunions with loved ones in the U.S. on Sunday after a federal judge swept the ban aside.
Airlines around the world allowed people to board flights as usual to the United States. One lawyer waiting at New York's Kennedy Airport said visa and green-card holders from Iraq and Iran were encountering no problems as they arrived.
Meanwhile, President Trump has told US border officials to check people entering America very carefully, as his travel ban remains suspended according to BBC.
He said the courts were making the job very difficult, and should take the blame if something happened.
The federal appeals court on Saturday rejected the Trump administration's request to reinstate the ban.
The ban, affecting people from seven mainly-Muslim countries, was blocked by a federal judge on February 3 .This means that Trump's directive will remain suspended and visa holders Iraq, Syria, Iran, Libya, Somalia, Sudan and Yemen will be allowed to enter the US until the full case has been heard.
The White House and two US states challenging the ban have been given a deadline of Monday to present more arguments.
As the White House worked to reinstate the ban, Trump mocked U.S. District Judge James Robart, appointed by President George W. Bush, as a "so-called judge" whose "ridiculous" ruling "will be overturned."
"The opinion of this so-called judge, which essentially takes law-enforcement away from our country, is ridiculous and will be overturned," Trump tweeted. He added in a subsequent tweet: "Because the ban was lifted by a judge, many very bad and dangerous people may be pouring into our country. A terrible decision."
Source : US State Department / AP / BBC
February 5 , 2017