Vietjet announces new international route from Ho Chi Minh City to Jakarta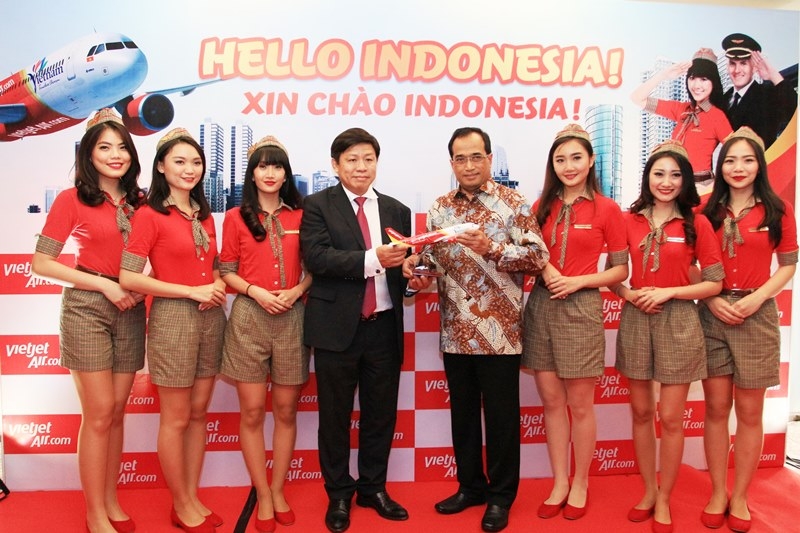 Travelbiznews Online –
Jakarta : Vietjet announced the opening of a new international route connecting Ho Chi Minh City with Indonesian capital Jakarta. The announcement ceremony was witnessed by high-ranking dignitaries from Vietnam and Indonesia during the official visit of Mr. Nguyen Phu Trong, General Secretary of the Communist Party of Vietnam to Indonesia.
The new route will meet increasing demand for travel between the two countries and boost regional trading and integration.
The Ho Chi Minh City (HCMC)-Jakarta route, a three-hour journey, will operate daily from December 20, 2017.
Jakarta, Indonesian capital, is famous for its own distinctive multicultural style, amazing cuisine and colorful tourism. It will also serve as a gateway to a country, which offers the world "Consistency in Diversity".
The Indonesian archipelago boasts Unesco-listed world heritages such as Borobudur and Prambanan, Komodo national park, Ujung Kulon National Park and Sumatra rainforest and, of course, breathtaking 'paradise' islands, such as Bali, one of the world's most incredible beach destinations.
In turn, Ho Chi Minh City will open visitors from Indonesia to travel in Vietnam, which also boasts Unesco-listed world heritages and incredible beaches. The capital city of Hanoi is an incredible historic city with a rich, culture and unique atmosphere.
Other cities and destinations include the former imperial capital, Hue, a wonderful, romantic destination, the city of Da Nang, where you will find stunning beaches, the wonderland of Quang Binh province, home to the largest caves in the world.
As the country's largest economic, financial and modern tourism hub, Ho Chi Minh City is a destination in its own right, one that visitors will find is as sweet and charming as it is dynamic and entertaining.
Vietjet boasts a fleet of 45 aircraft, including A320s and A321s, and operates 350 flights each day. It has already opened 73 routes in Vietnam and across the region to international destinations such as Thailand, Singapore, South Korea, Taiwan, Hong Kong, Mainland China, Malaysia, Myanmar and Cambodia.
The airline has carried nearly 40 million passengers to date according to a statement of Vietjet.
Aug.24, 2017