Vietjet offers 700,000 tickets priced just from USD0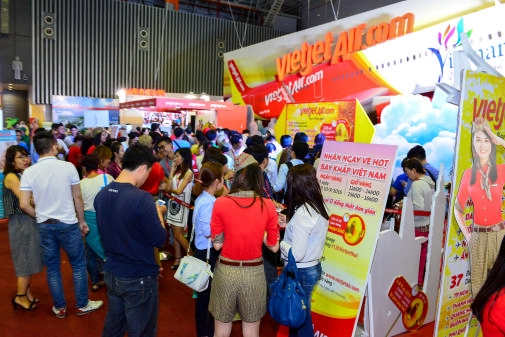 TravelBizNews —
Ho Chi Minh City : Celebrating the 13th International Travel Expo Ho Chi Minh City (ITE HCMC) held onSeptember 7 – 9, 2017 at Saigon Exhibition and Convention Center (SECC), Vietjet offers locals and tourists a series of interesting activities.
Vietjet announced three golden days from September 7 – 9 ,offering 700,000 promotional tickets priced just from 0 dong (excluding taxes and fees) at the golden hours from 12h to 14h daily.
Promotional tickets will be applied for all domestic routes from October 1- December 31, 2017 and international routes to Seoul, Busan (South Korea)/ Hong Kong/ Kaohsiung, Taipei, Taichung, Tainan (Taiwan)/ Singapore/ Bangkok (Thailand)/ Kuala Lumpur (Malaysia)/ Yangon (Myanmar)/ Siem Reap (Cambodia) from October 1 to August 31, 2018 .
International Travel Expo Ho Chi Minh City (ITE HCMC) is endorsed by the People's Committee of Ho Chi Minh City, Vietnam and the Ministry of Culture, Sports and Tourism Vietnam in collaboration with other agencies.
Entitled "The Gateway to Asia", ITE HCMC 2017 is organized to celebrate the 50th Anniversary of ASEAN. ITE HCMC is a national event, which has regional influence, a large travel event both in Vietnam in general and Ho Chi Minh City in particular.
Sept. 7 , 2017