Vietjet orders another six A321 at Paris Air Show 2015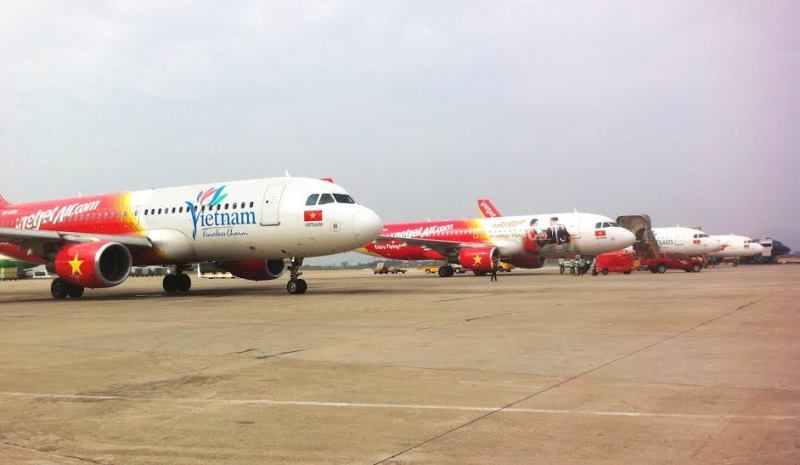 Paris: Vietjet inked a deal with aircraft manufacturer Airbus to purchase six more A321 jets worth a total of US$682 million at the Paris Air Show 2015 today.. These aircraft will be delivered in 2017 to tap the airline's rapid growth.
Vietjet President & CEO Nguyen Thi Phuong Thao and President and CEO of Airbus Fabrice Brégier both signed the contract at the prestigious event.
The purchase of these A321, one of the most modern single-aisle aircraft produced by Airbus, is in addition to a deal made last year by the new-age airline and the European aircraft manufacturer for the purchase and lease of 100 aircraft according to a statement issued by Vietjet Air.
As of early 2015, a total of six A320 and A321 aircraft from that initial order had been delivered to Vietjet. As per the contract, Vietjet will continue to receive six to 12 aircraft every year until the order is complete. This order for an additional six A321 aircraft from Airbus to be delivered in 2017 further underscores Vietjet's strong growth, which has exceeded expectations of the previous contract.
Speaking at the event, Vietjet President & CEO Nguyen Thi Phuong Thao said: "Vietjet has grown faster than expected in the last few years and our previous purchasing plans for new aircraft could not keep up with developing demand. In March 2015, we also received our first A321 aircraft, the 9,000th aircraft made by Airbus, as part of the original contract. This jet has already been put into operation safely and effectively."
Fabrice Brégier, President and CEO of Airbus said: "We are pleased to see Vietjet renewing its confidence in Airbus by enlarging their A320 Family fleet. The A320 Family offers the lowest operating costs in the single aisle market and this latest order from Vietjet further confirms the growing popularity of the A321 as the largest member of the product line."
Together Airbus' A320 and A321 have become the world's best-selling and most modern single-aisle products with more than 10,200 aircraft ordered and more than 6,000 aircraft delivered to airlines worldwide to date.
Established in 1909, the Paris Air Show – the world's oldest air show – is held every second year at Le Bourget Airport in north Paris, France. This year, the 51st Paris Air Show is taking place from 15 – 21 June, 2015. As always the event attracts the world's leading aircraft manufacturers, engine makers, airlines and members of the general public.
VietJet is the first airline in Vietnam, which runs under a new age airline concept. Vietjet has made a breakthrough in Vietnam's aviation market, offering millions of people the opportunity to travel by air. It encourages the government to invest more in civil aviation infrastructure and speeds up privatization of state-owned enterprises.
Currently, the airline is operating a fleet of 25 Airbus A320 and A321 aircraft, with 150 flights each day. It has already opened 30 air routes inside Vietnam and between Vietnam and Thailand, Singapore, Korea, Taiwan, Cambodia and China. It has transported more than 12 million passengers since the beginning more than three years ago.
The airline plans to expand network across Asia-Pacific region and is also studying to open long-haul flights to Europe.
June 17, 2015