Vietjet signs strategic agreement with Japan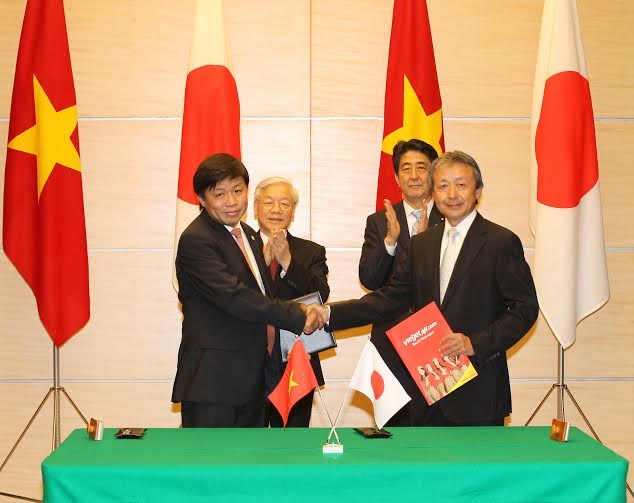 TBNews —
Tokyo – Vietjet and Mitsubishi UFJ Lease & Finance Company Limited (MUL), a member of Japan's leading finance group Mitsubishi UFJ Financial Group (MUFG), signed a memorandum of understanding (MOU) in Tokyo on the sidelines of the official visit of Nguyen Phu Trong, General Secretary of the Communist Party of Vietnam, to Japan.
Japan's Prime Minister Shinzo Abe and General Secretary Nguyen Phu Trong witnessed the signing of the MOU, which will pave the way for MUL to finance Vietjet's leasing and acquisition of three brand new A321 aircraft, worth US$347.2 million, according to the manufacturer's listed price.
These three aircraft are part of a contract signed earlier between Vietjet and European aircraft manufacturer Airbus to purchase and/ or lease a total of 107 aicraft in coming years.
As planned, Vietjet will receive from 10 to 12 new aircraft every year until the above contract withAirbus is complete. The airline has so far taken delivery of eight A321s and A320s.
Under the terms of the MOU, MUL and Vietjet will also work together to share best practices in airlines operation and management according to a statement of Vitjet.
Sept.16, 2015