Vietnam airlines buys 40 Airbus jets worth $6.5 billion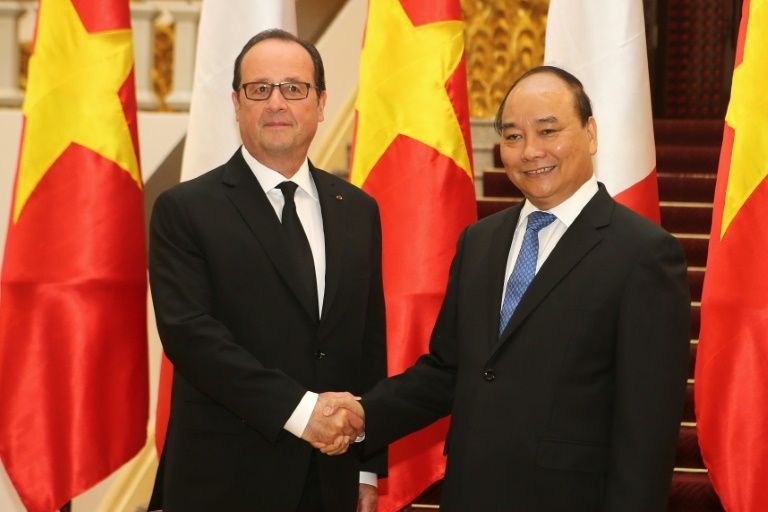 Hanoi ( AFP ) : Vietnam airlines bought 40 jets worth $6.5 billion from France's Airbus Tuesday, as President Francois Hollande visited the communist nation to drum up business with one of Southeast Asia's fastest-growing economies.
The deal is the latest move by Vietnamese aviation firms to boost fleets and feed demand from a mushrooming middle class with money to burn on air travel both at home and abroad.
Hollande, the third French president to visit Vietnam since independence, said the "very important deals" deepened ties with its former colony where France's legacy is ubiquitous — from the country's colonial-era buildings to French-influenced cuisine.
The countries agreed "to establish economic partnerships on the basis of technology transfer," Hollande said after Airbus signed three separate deals.
Low-cost private airline VietJet, famous for its bikini-clad hostesses, bought 20 planes.
National carrier Vietnam Airlines and budget airline Jetstar Pacific bought 10 each, for total "deals worth $6.5 billion", Airbus Asia spokesman Sean Lee told AFP.
He did not provide a breakdown of each deal's value, but VietJet said later in a statement it was spending $2.39 billion on its new planes.
The three carriers are making a major move into the lucrative Southeast Asian aviation sector.
With a GDP growth rate of 6.7 percent last year, an ever-increasing chunk of Vietnam's 90 million people have spending power that airline and other industries are keen to tap.
The aviation deal was the centrepiece of Hollande's whirlwind 48-hour tour of Vietnam.
After meeting communist top brass at the French-built presidential palace, Hollande took to the rain-slicked streets in Hanoi's historic Old Quarter, amid a crush of cheering tourists and locals.
Earlier in the day he spoke with Vietnamese President Tran Dai Quang about maritime freedom, a key issue for Hanoi which is locked in an increasingly testy spat with Beijing over competing claims in the South China Sea.
"The president and I committed to respect the rule of law in the seas and oceans, reaffirming the commitment to maintain freedom of maritime and aviation," Quang said.
"The two sides stressed the importance of solving disputes by peaceful means, not to use or threaten to use violence on the basis of international laws."
Tensions between Hanoi and Beijing soared in 2014 when China moved an oil rig into disputed waters, sparking riots in Vietnam.
A UN-backed tribunal ruled in July that China's claims to almost all of the South China Sea had no legal basis and that its construction of artificial islands in disputed waters was illegal.
Ahead of his visit, Hollande was urged by activists to raise the issue of human rights with authorities in tightly-controlled Vietnam, where bloggers and dissidents are routinely jailed for criticising the regime.
"Human rights must not be sacrificed to trade and security deals. President Hollande must use his visit to call on the Vietnamese authorities to meet their human rights obligations under international law," said Camille Blanc, chair of Amnesty International France.
But rights are not on the official agenda for what is slated as a trade visit.
Hollande will travel to Vietnam's commercial hub Ho Chi Minh City to meet with French entrepreners, including some from Vietnam's burgeoning tech sector.
Prior to his arrival Hollande said France had a "tumultuous past" with Vietnam, which it occupied for nearly a century until its crushing defeat at the battle of Dien Bien Phu in 1954.
France is one of Vietnam's leading European trading partners, with French exports to Vietnam increasing by 85 percent last year, and the second largest aid donor behind Japan.
Sept. 6 , 2016