Wildlife Consortium launches new programme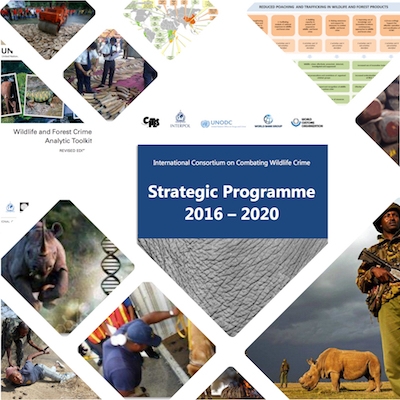 Geneva – The International Consortium on Combating Wildlife Crime (ICCWC) has unveiled its Strategic Programme for 2016-2020, detailing targeted activities, operations and initiatives the Consortium aims to deliver to support wildlife law enforcement agencies to combat illicit wildlife trafficking and enhance their capacity to take enforcement action to fight these serious crimes.
This launch follows the strong recognition of the need for increased international collaboration and coordination to combat illicit trafficking in wildlife, and the important role of ICCWC, which has been recognized at the highest levels of the United Nations, by ICCWC partner organizations and in other fora.
Mr. John E. Scanlon, CITES Secretary-General, said: "The UN General Assembly Resolution on 'Tackling Illicit Trafficking in Wildlife' calls for firm and strengthened national measures, and an enhanced regional and global response to illicit wildlife trafficking. Implementation of the Consortium's Strategic Programme will strengthen the capacity of law enforcement authorities to take well targeted and coordinated enforcement actions to combat illicit wildlife trafficking and give them access to the tools and techniques required to fight transnational organized criminal groups. The ICCWC enforcement indicators framework, also being launched today, will allow countries to track and monitor their progress and identify where a change in response is needed."
The Consortium's Strategic Programme outlines the types of activities to be pursued by ICCWC up to 2020, including to strengthen cooperation and coordination amongst wildlife law enforcement agencies; analyzing and facilitating responses to wildlife and forest crime; strengthening national enforcement capacity; raising awareness and political support to combat illicit trafficking in wildlife, and; improving the use of knowledge and innovation to counter wildlife and forest crime. It was launched at the 66th meeting of the CITES Standing Committee (SC66) that is being held in Geneva, Switzerland, from 11 to 15 January 2016.
During SC66, ICCWC hosted a number of events to showcase the range of tools and services available through, and being developed under the auspices of, the Consortium to support law enforcement. This included the launch of the ICCWC Indicator framework for wildlife and forest crime, developed to assist countries to measure and monitor the effectiveness of their law enforcement responses to wildlife and forest crime over time, and to identify any changes or challenges in their responses. The ICCWC Indicator framework will complement the ICCWC Wildlife and Forest Crime Analytic Toolkit, which continues to be implemented in a growing number of countries. The Consortium also provided information about its ongoing work on a global research initiative on the illicit trafficking in wildlife, which will culminate in the first World Wildlife Crime Report in the course of this year.
A number of other initiatives and projects to provide operational support and enhance law enforcement capacity were also discussed, including for example a successful operation to trace, locate and arrest wanted fugitives of wildlife and forest crimes and the use of secure communication systems available to wildlife law enforcement officers. ICCWC's ongoing work on forensics, including the development of guidance on timber identification materials and the launch of a training video designed to assist countries with ivory sample collection that will complement the guidelines for forensic methods and procedures of ivory sampling and analysis were also presented. The activities conducted under the auspices of ICCWC were formally presented to SC66 in a document prepared for the meeting.
The implementation of the Strategic Programme and use of the ICCWC indicator framework will support efforts to combat poaching and trafficking in wildlife, as called for in the Sustainable Development Goals recently adopted by the UN Sustainable Development Summit.
In November 2015, ICCWC celebrated its 5th anniversary, following the signature of a Letter of Understanding between the five ICCWC partners in November 2010. The vast array of activities conducted and materials delivered by ICCWC to date has been possible thanks to the generous funding support provided to the Consortium by the European Commission, the Netherlands, Norway, Sweden, the United Kingdom of Great Britain and Northern Ireland, the United States of America and the World Bank Development Grant Facility. Source : CITES , Jan.14,2016