Wonderland on Earth:Guilin in China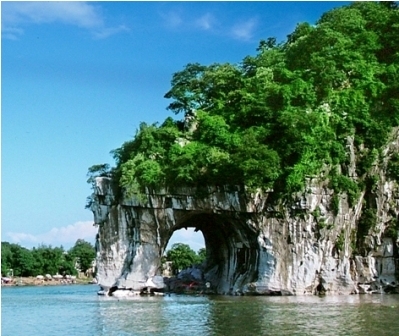 Guilin is regarded as the most picturesque city in China. Two crystal-clear rivers meander through the city, which are encircled by hills with unusual & bizarre rock formations and caves inside. Two crusted movements of earth took place about 200 and 180 million years age thrusting the limestone sediments out of the sea bottom. They were forced upwards more than 200 meters to the surface. This Karst formation was molded through many years of erosion by the wind and rain to become the hills and rocks with bizarre shapes. There are numerous complete Karst (limestone sites), which are of high scientific value and tour value.
Guilin is named after the fragrance of cherry bay and saw its first inhabitants in Qin Dynasty over 2000 years ago. Guilin experienced a prosperous period during Tang, Song, Yuan, Ming and Qing Dynasty under the patronage from succeeding Emperors.
Situated in the northeastern part of Guangxi Zhuang Autonomous Region, Guilin has enjoyed the reputation of having the most fantastic natural landscapes not only in China but also abroad. Its dreamy natural scenery and unique ancient architecture from the Qin and Ming Dynasties astound visitors from home and abroad. Visiting Guilin and discovering its natural wonders, such as its magical green pinnacles, crystal-clear water, picturesque rocks and intriguing caves, can provide a never-ending journey for every visitor. Now is the prime time to travel to Guilin and experience this charming and historic city in its splendor.
Guilin is not only a perfect place for living, but also an extraordinary, eco- friendly tour destination.Guilin is located at 109°E longitude and 24° N latitude in northeastern Guangxi Zhuang Autonomous Region. The Guilin Municipal Region covers an area of 4,195 square kilometers. It lies in a basin surrounded by the Yuecheng Range, Ocean Hill, Jiaqiao Range and Tianping Hill. The altitude is 140 to160 meters.
Guilin sits in a subtropical monsoon zone with a warm and moist climate, which is moderate all the year round. However be prepared for a bit of rain, with annual precipitation amounts of 1900mm.The average temperature all year round is 19°C(66F).The coldest temperatures occur in January at 8°C(46F) and the hottest occur in July at 28°C(82F).The best time to travel here is between April and October.
With a total population of 4,951,100 in the city and surrounding areas, Guilin is currently home to 12 ethnic nationalities. 8.5% of the population is made up of 11 minority nationalities including Zhuang, Hui, Yao and Dong etc.Guilin covers an area of 27,809 square km and has 5 districts (Diecai, Qixing, Xiufeng, Xiangshan, Yanshan) and 12 counties (Yangshuo, Lingui, Lingchuan, Xing'an, Quanzhou, Ziyuan, Longsheng, Yongfu, Lipu, Gongcheng, Pingle and Guanyang).
Situated on the west bank of the Li River, in the south-west of the city, Elephant Trunk Hill is the symbol of Guilin. It is called Elephant Trunk Hill because the shape of the hill looks like an elephant drinking water from the river with its long trunk. The Elephant Trunk Hill is 108 meters long and 100 meters wide, and the area of the hill body is 1.3 hectares.
Elephant Trunk Hill was previously called" Li Mountain ", and in 1986, Elephant Trunk Hill Park was built along the Elephant Trunk Hill, which is the main body in the park. It is said that Elephant Trunk Hill, the unique attraction of Guilin, is a very important scenic spot, and once you have been to the Hill, you are considered to have been to Guilin.
Between the elephant trunk and the legs, there is a cave called the Water Moon Cave, which is 17 meters long, 9.5 meters wide, and 12 meters high. It is considered as a marvel in Guilin, and many writers and poets are astonished by the spot and have written a number of articles and poems to praise this special sight.The view of the Elephant Trunk Hill is very beautiful; you can enjoy the fantastic scene of the beautiful Elephant Trunk Hill. Nearly 30 million tourists visit Guilin each year.