World Congress of International Hotel and Restaurants Association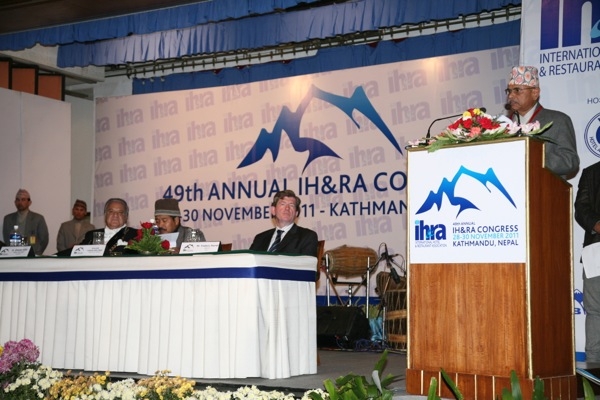 Kathmandu -The 49th Annual World Congress of International Hotel and Restaurants Association (IHRA) concluded here with commitment of accelerating hospitality industry.
Around 200 participants from the hospitality industry from 35 countries discussed on a wide range of issues related to the industry during the conference (Nov.28-30, 2011).
President Dr Ram Baran Yadav, inaugurating the event, emphasized for public-private-partnership model for the development of tourism sector in Nepal.
Speaking at the session, IHRA President Dr Ghassan Aidi said that more than 3,000 new hotels are opened across the world annually and each hotel generating about 100 jobs. Dr Aidi said that the conference became successful in sharing experiences of different counties.
 Fredric Pierret, Executive Director of United Nations World Trade Organization (UNWTO), opined tourism growth is positive globally and that forecasts for coming years are promising.
 Minister for Tourism and Civil Aviation Lokendra Bista Magar said under PPP, theNepal government has adopted a liberal policy for the development of the tourism sector and facilitatating tourism entrepreneurs. .
 HAN president Prasiddha Bahadur Panday said the World Congress will help Nepal to promote in the international arena and will also motivate international investors to inject investments in Nepal
 The World Congress mainly focused on new trends in the hospitality industry, redefining excellence in standards for the industry and climate change and investment realities in Nepal.
 A postal stamp in commemoration of IHRA World Congress priced Rs 1.75 was launched at the closing ceremony.
 IHRA is a global business organization representing world´s hospitality industry. The association comprises of around 300,000 hotels and 8 million restaurants under its umbrella. It contributes $950 million a year to the global economy.