World Tourism Alliance established in Chengdu, 89 founding members including China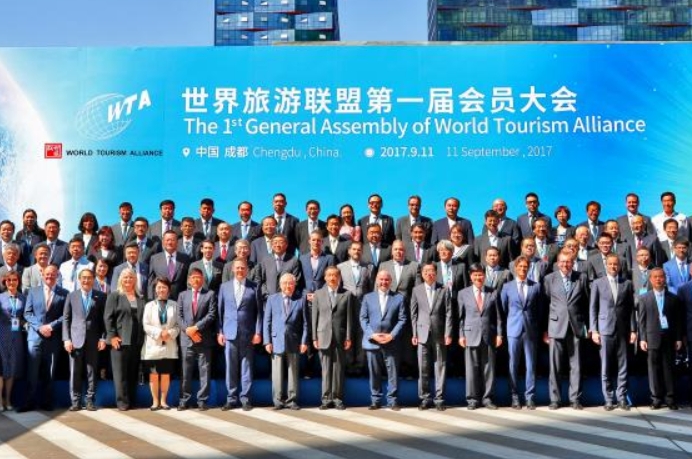 TravelBizNews Correspondent —
Chengdu: The World Tourism Alliance (WTA) initiated by China is officially established amid a grand ceremony held at Chengdu Century City New International Convention and Exhibition Center.
The ceremony was witnessed by more than 1,000 guests from 137 countries and regions who were attending the 22nd General Assembly of the United Nations World Tourism Organization (UNWTO) held in Chengdu.
The WTA is the first global, comprehensive, non-governmental, non-profit international tourism organization. The World Tourism Alliance, a global network linking non-governmental players in the industry, was set up in China on Sept. 12 by 89 founding members, mainly national tourism associations, tourist enterprises and think tanks from around the world.
The founding members include United States, France, Germany, Australia, South Africa, Japan , Brazil, international tourism associations, influential tourism companies and think tanks, heads of international organizations, retired tourism officials, executives of tourism companies and noted scholars.
According to UNWTO, the number of global travelers will exceed 1.8 billion by 2030. China is considered the world's fastest growing tourism market and will play a key role in the sector's development.
Chinese President Xi Jinping and Premier Li Keqiang sent a congratulatory lmessage to the 22nd General Assembly of the United Nations World Tourism Organization (UNWTO).
Li Jinzao, Chairman of China National Tourism Administration (CNTA) and Director of the Preparatory Committee for the WTA, , UNWTO Secretary-General Taleb Rifai and WTA Chairman Duan Qiang highlighted on various issues of global tourism.
On the occasion, Chinese President Xi Jinping , in a congratulatory message to the UNWTO Assembly , wished all the countries to work together for greater development of global tourism.
He called tourism a significant channel of communication between different countries and cultures, an effective tool of creating economic growth and jobs, and an important industry to improve people's lives.
'China highly values tourism, which has contributed over 10 percent of its national economy and employment .Chinese tourists will make 700 million outbound trips in the coming five years.'
"The country also warmly welcomes inbound tourists, with its long history, rich culture, beautiful scenery and diverse folk customs," Xi said.
Similarly, Chinese Premier Li Keqiang stressed on the importance of cooperation in global tourism development, saying that China would play a constructive role in driving sustainable growth in the area.
In a congratulatory message to launching ceremony of the World Tourism Alliance, Li highlighted the significance of tourism for its contribution in boosting consumption and employment, supporting economic growth and facilitating exchanges between countries.
"I believe the World Tourism Alliance would help create a new platform and new opportunities for the sector's sustainable development," Li said .
Director of the Organizing Committee for the Establishment of the WTA and CNTA Chairman Li Jinzao focused on lofty goals of newly established worrld organization at the general assembly presided by Deputy Director of the Organizing Committee and CNTA Vice Chairman Du Jiang.
Li said, "Chinese government highly values tourism development. Chinese President Xi Jinping has stressed on various occasions that tourism is a comprehensive industry, an important impetus for economic growth, a bridge for cultural dissemination and exchange and people-to-people bond, and a key indicator of people's livelihood.".
" In recent years, Chinese tourism industry has scored remarkable achievements in the Toilet Revolution, holistic tourism, tourism for poverty alleviation, tourist police, tourist courts, tourism for diplomacy and tourist etiquette, etc. It is growing into a strategic pillar industry for the national economy and a modern service industry with increasing popularity among the general public."
"The Alliance is aimed to promote development, poverty reduction and peace through tourism by extending consensus, sharing experience and deepening cooperation in driving the sustainable, inclusive development of the global tourism industry. The Alliance and the UNWTO are complementary to each other. They serve as two wheels driving global tourism exchange and cooperation at the governmental and non-governmental levels," CNTA Chairman Li added.
At the general assembly, Deputy Director of the Organizing Committee Duan Qiang presented a report on the preparatory work, and member of the Organizing Committee Liu Shijun submitted the Constitution of the World Tourism Alliance (draft), the Rules of Procedure of the General Assembly of the World Tourism Alliance (draft), and the Name List of Nominees for the 1st Board of Directors of the World Tourism Alliance to the general assembly for review.
The World Tourism Alliance aims providing professional services for its members, building a platform for dialogue, communication and cooperation among its members, and promoting business cooperation and experience sharing among them; communicating and coordinating with relevant international organizations with an open mind and facilitating international tourism cooperation; establishing high-level tourism research and consultancy institutions to study the trend of global tourism development; collecting, analyzing and releasing global and regional tourism data; providing consultation services and business training for governments and companies; establishing a reciprocal mechanism among its members and promoting them to share resources and market their tourism market; hosting annual meetings, summits and expos as platforms for exchange and cooperation between the public and the private sectors and advancing the integration of the global tourism industry and related industries.
Also present at the ceremony included HRH Prince Sultan bin Salman bin Abdul Aziz, President of Saudi Commission for Tourism and National Heritage, Mikheil Janelidze, Deputy Prime Minister and Foreign Minister of Georgia, Joe Natuman, Vanuatu's Deputy Prime Minister and Minister for Trade, Yin Li, Governor of Sichuan Province, Du Jiang, Vice Chairman of CNTA, and Luo Qiang, Mayor of Chengdu according to CNTA.
The UNWTO General Assembly will discuss various issues of world tourism in the meeting, scheduled for Sept. 11-16 in Chengdu, capital of southwest China's Sichuan Province.
Inputs from CNTA
Sept. 13, 2017