Wuzhen China : A Historical Water Town of World Heritage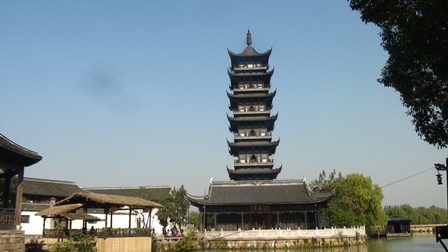 By Jessica He ——
Wuzhen is a historical water town of ancient docks and waterside pavilions. It is adjacent to Beijing-Hangzhou Grand Canal.
If Shanghai represents modern China, Wuzhen speaks for ancient China. It is a place that truly reflects China's heritage, culture and beauty, a place where eastern hospitality is part of the essence of life. Awarded as "the Most Favorite Chinese Scenic Area by European Tourist", Wuzhen is a must see water town in China.
Located in the south delta of Yangtze river, Wuzhen is less than 100 km from Shanghai, Hangzhou and Suzhou. It is also conveniently serviced by modern expressways.The Old Town covers over 70 km2 and has a population of 60,000 including 12,000 who are permanent residents.
Wuzhen History
Around 7,000 years ago, Wuzhen's ancestors lived in a very fortunate land. From its establishment in 872 AD during the Tang Dynasty, this water town has grown and prospered maintaining a strong identity and life style under its original birth name of Wuzhen.
In January 2001, Wuzhen was officially opened to the public. The past few years have seen this township grow from being unknown back water to a increasingly popular tourist destination.
In 2001, the United Nations Educational Scientific and Cultural Organization (UNESCO) approved Wuzhen for its recognition on its Preparatory World Culture Heritage Listings. Additionally, 2010 saw Wuzhen honoured as a 5 "A" state-level tourist destination.
Stay at Wuzhen
Visit Wuzhen and stay a while. Within a few hours of Shanghai you can experience the beauty of our Historic Water Town on the banks of the Grand Canal. We have many amazing hotels –some luxury and some simple.
Whether your idea of heaven is exploring traditional cultural and local custom or luxuriating in pastoral landscape, with over 1000 rooms in 8 hotels, Wuzhen has the perfect choice for you. Wuzhen has guest houses, high-leveled clubhouses and star-rated holiday hotels. Wuzhen guest house are scatted on both banks of Xishi River. It has 400 different styles of rooms.
Wuzhen Clubhouse is a member of SLH (Small Luxury Hotels of the World). It comprises of three hotels with 84 rooms. Themed Hotels comprise of Waterside Resort, Tong An Hotel,Zhaoming Academy Inn and Dockside Boutique Hotel.
Waterside Resort is the largest hotel in this water town with 350 rooms. The newly opened Dockside Boutique Hotel stands along the Beijing-Hangzhou Grand Canal.
What to See in Wuzhen
With its long established and rich cultural history, there are various "must see" around the water town. Tourists can visit traditional handicraft workshops, museums, galleries and gardens, and they also can experience local customs and folk culture.
There are over twenty traditional handicraft workshops large and small including indigo fabric workshop, wine distillery workshop, soy sauce workshop and brocade workshop. Every workshop has a lot of interesting things to visit.
In Wuzhen, you can learn the ancient and now prohibited skill of foot-binding, listen to the story of the Great Theatre, read books at the Zhaoming Academy, gain knowledge of traditional Chinese medicine in the Heal Town Pharmacy and even send a postcard to your loved ones, in the Old Post Office.
Wuzhen is rich in cultural heritage and traditional folk customs.
Wuzhen's shadow play is ever popular. It's the cartoon in China.
The Long Street Feast is a spectacular event for all to enjoy.
The Temple Fair is also a folk activity not to be missed.
Cuisine and Souvenirs
There's a well known saying that "Food is the Necessity of Life" and here in Wuzhen the food is wonderful.There are many restaurants throughout the town serving mainly local cuisine and homemade dishes are on offer at guesthouses.
The famous dishes in Wuzhen include braised lamb in soy sauce and steamed white water fish. Also produced here is the well-known rice wine, chrysanthemum tea and Gusao Pastry.
Leisure and Entertainment
Wuzhen is a perfect place for leisure and entertainment. Wuzhen's Roselle Wellness Spa is unique among spas in China. Hotels have swimming pools, tennis courts and gymnasiums for the active minded or simply pleasure seeking types.
There are a range of stylish cafes and bars around town. It's fascinating to have a cup of coffee, or just enjoy a beer.Tea drinking is the popular pasttime for Wuzhen people and over a 100 teahouses used to be scattered all over town
The open-air movie place is a simple but accessible facility. Visitors can watch old time movies for free as they pass by. Night viewing of Wuzhen is too good to be missed. You can enjoy a magical mysterious punt trip along the fully illuminated river.
Conference Facilities
With Wuzhens's long established history, living culture and beautiful natural surroundings, it's an ideal choice for MICE activities. There are over a hundred conference rooms are available including multifunctional conference rooms, VIP reception halls and general meeting rooms. Simultaneous interpretation services are available on request to assist a successful conference outcome. Wuzhen's professional support team will serve your conference or meetings from inception through operation to conclusion.
Since 2007, Wuzhen has hosted over 2,400 conferences both from home and abroad including such prestigious organizations as McKinsey & Company, Bayer, SUPOR, EF and many others.