WWF – ATTA partner to advance conservation travel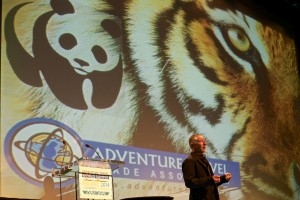 SEATTLE – Adventure Travel Trade Association (ATTA) and World Wildlife Fund (WWF) signed a Memorandum of Understanding outlining their collaborative strategy to advance conservation of the planet's most precious wildlife, landscapes and seascapes – resources upon which the travel industry itself depends during the 2014 Adventure Travel World Summit ( ATWS) in Killarney, Ireland .
Over the last two years the ATTA and WWF have worked to understand and highlight the interdependence of the travel industry and the conservation of the natural world that is the destination of the adventure traveler. This interdependence is embodied in their joint Conservation Travel initiative.
Conservation Travel is sustainable tourism that connects the traveler with nature and supports its protection by ensuring benefits from tourism investment flow to the local stewards of wildlife and wildlands. WWF has pursued Conservation Travel as a key strategy in its mission to build a future where people live in harmony with nature, and ATTA has embraced this concept as something vital to the future of the industry.
The impact of Conservation Travel approaches was seen clearly in Namibia, Africa – the location of the 2013 Adventure Travel World Summit. ATTA President Mr. Shannon Stowell stated, "Namibia's innovative communal conservancy model and its visionary engagement with our industry demonstrated the power of Adventure Travel to make a difference for people, for the planet's last great places, and for the future of life on Earth. It has inspired us all to think about how our collective effort can make conservation investment just good business."
During the 2014 ATWS, the opening plenary on Conservation Travel allowed WWF and ATTA to frame the concept's vision and the economic benefits it brings to the industry and to nature. Buoyed by examples of innovative approaches to Conservation Travel from Volcano Safaris' Praveen Moman and TOFTigers's Julian Matthews, the conference demonstrated how Adventure Travel can make positive economic waves for local communities and whole nations, benefit business bottom lines, and make wildlife and wildlands a competitive land use.
James Sano, WWF's Vice President of Travel, Tourism and Conservation, emphasized that "if done right, Adventure Travel can influence travel enthusiasts to become lifelong conservation enthusiasts, and incentivize local communities to conserve nature – making wildlife worth more alive than dead."- ATTA
October 8 , 2014