Yuthasak Supasorn – new Governor of Tourism Authority of Thailand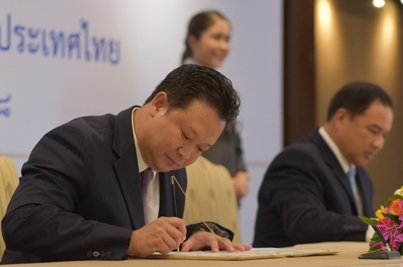 Bangkok: The Tourism Authority of Thailand (TAT) welcomed Yuthasak Supasorn as the new Governor.
Mr. Yuthasak, 49, was appointed by the TAT Board of Directors as the TAT Governor after Thawatchai Arunyik completed his term at the end of March 2015. He was previously the executive vice president and chief financial officer of Thailand's MCOT Public Company Limited (MCOT).
Commenting on his appointment, Yuthasak said he planned to introduce three immediate strategies upon taking the Governor post at the TAT, including reassuring global confidence and stimulating domestic tourism in the wake of the recent tragic incident in Bangkok, as well as creating a better TAT.
On reassuring global confidence, TAT's domestic and overseas offices are providing regular updates on the 'business as usual' situation in Thailand and reiterating that the country continues to be a welcoming tourist destination. In December, TAT will organise a major event to draw tourists.
Promoting domestic tourism will also be a top priority, he said, especially for students and senior citizens. He said new ways would be found to promote domestic travel not just during school holiday periods and weekends but during weekdays, all-year.
He added the plans were to build on the TAT's strong foundation to improve cooperation with other government agencies, the private sector and partners abroad, and to streamline internal procedures to upgrade the operational efficiency of the TAT, a state enterprise.
– See more at: http://www.tatnews.org
Aug. 31, 2015